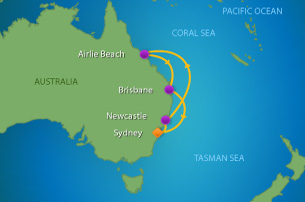 PACKAGE DETAILS
Ages:

Duration:

Days

Status:

Bookings open

Region:

Oceania

Destinations:

Australia

Travel Style:

Cruise

Accomodation:

Ship cabins

Prices:

Transport:

Cruise

Pace:

1

Group Size:

8+ estimate

Trip Code:

RD20180329

Terms:
REVIEWS

The Tassie trip was brilliant, the guides were friendly and informative, we feasted on local produce and Tasmania's Bay of Fires and Blue Tier regions was majestic.
Jenni, 55 years, ACT

The holidays offer the right mix of group activities and free time at top destinations. But don't take my word for it; i've only been on 3-ask those who have taken 20 or 30 of their holidays!
Graham, TAS
REQUEST A QUOTE >
NEED MORE HELP?
EMAIL US >
DOWNLOAD TOUR BROCHURE