Free Time Extras
< Back to holiday
FREE TIME EXTRAS
If you have arranged to arrive a day/s prior to the tour commencement, here are some suggestions for activities you may like to consider.
A TOWN LIKE ALICE - HALF DAY TOUR
​On this half day tour, learn about the town of Alice Springs and how it has evolved into the central hub of the Australian outback. Australia's most famous outback town is now the central headquarters to a range of services and a thriving tourism industry.

Visit:
School of Air – lessons not operating on weekends
Historic Telegraph Station
Headquarters of the Royal Flying Doctors
Alice Springs Reptile Centre
Anzac Hill
Departs: 12:30pm approximately
Ends:  5:20pm approximately

AUD115 per person
>> Ask us about booking this activity 
OUTBACK BALLOONING, ALICE SPRINGS
Your day begins in the cool pre-dawn darkness as you are picked up from your accommodation in Alice Springs. The balloon flight takes place to the south of Alice Springs over historic Owen Springs Station adjacent to the MacDonnell Ranges. Once floating gently in the air you will appreciate the vast remoteness of the Australian Outback. Wildlife, particularly big red kangaroos are seen nearly every day as the balloon crosses spinifex grasses, mulga scrub and cattle stations.  Refreshments (a selection of muffins, slices and biscuits, cheese and fresh fruit) accompanied by Australian sparkling wine and fresh juice will be served 'in the bush' after every balloon flight. Return transfers and a souvenir flight certificate completes the morning adventure.
Flight 60 min - $395 

Start time depends on time of the year: as a guide 5:30am - 5:45am pick up from hotel (advised closer to time of travel)
See below image for NEED TO KNOW information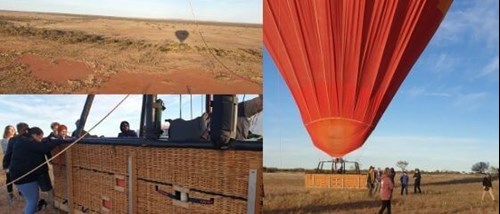 NEED TO KNOW
The Feeling in a Balloon
There is no turbulence or vibration as the balloon moves with the wind. With eyes closed it is impossible to tell that you are flying. It is no colder in the air than on the ground. It is a fact it is often warmer with the burners overhead and the balloon flies above the night time low level cold air temperature inversion. Fear of heights is not generally a problem as the basket sides are high and secure and there is no vertical 'face' between the balloon and the ground. The sensation is similar to looking out of an aircraft window, but it is much bigger with no glass!
It is weather dependent, so if weather is not great, then it will be cancelled. 
For safety reasons you must provide your weight

. Anyone over 100kgs needs to consider if they are able to get into and out of the balloon as there is no door (must climb into and out of basket).

Hotel pick up is included.

60 Minute Flight: On occasion, the flight time may be two separate, sequential 30-minute flights taken one directly after the other, with a short changeover in between the two flights, depending on operational restrictions. Customers will be notified the day prior should this be the case on the day of their flight.
Tour Duration & Location
Allow up to 4 hours in total with Outback Ballooning. The flight distance will typically be between 10 and 20 kilometres. The balloon flight takes place approximately 15
kilometres to the south of Alice Springs, adjacent to the MacDonnell Ranges and over the historic Owen Springs Cattle Station.
What to Wear
It is dusty in the Outback. Outdoor clothing (preferably not white), long pants and hat or cap are recommended. Enclosed flat heel shoes are essential. It is no colder in the balloon than on the ground, but it can be cooler before sunrise. Warm clothing may be necessary from approximately May to September. Loose items such as dangling jewellery and scarves are not permitted once customers reach the launch site and dis-embark from the bus.
Online Check-in for Balloon Flight
All customers will be required to online check-in the day prior to their balloon flight. For this reason, we provide your mobile number and email address so you will receive the check in text and an email containing online check-in link and instructions.
Number of Customers
Outback Ballooning has a large fleet of balloons suitable for 2-4 people, up to 8, 12, 16, 20 and 24 people in one balloon depending on number of bookings on the day. Exclusive charters are also available on request.
Refreshments
After landing, Outback Ballooning has designed its program to allow for a unique opportunity to experience the Australian bush. Most of our landings are in the desert kilometres away from the nearest road. There is no traffic, no other people and no noise. The perfect place to enjoy a glass of sparkling Australian wine or fruit juice. Drinks are accompanied by a small snack. Dietary requirements on request.


General Health
Physical fitness is not a requirement to enjoy a ballooning adventure, but customers must be able to climb up and into the balloon basket (approx. 1.2 metres in height) unaided. There are foot holes, which act like a ladder. Everyone must stand upright for the duration of the flight, as there are no seats in the basket, but there are secure high sides to lean on.

Civil Aviation Safety Authority (CASA) rules and regulations and Outback Ballooning's policy prevent us from flying women who are over 12 weeks pregnant. Pregnancy must be advised in advance.

Illness and/or recent operations that may affect the person or other persons on the tour must be notified to Outback Ballooning in advance. Medication should be brought on the tour.
The packing up tasks at the end of the flight are optional and we do appreciate assistance in these enjoyable activities. However, they do involve some lifting and participation is entirely voluntary. Customers that are less able bodied are invited to stand back and take photos.

Persons with medical conditions participating in the balloon flight and pack up activities do so at their own risk. Any form of disablement must be discussed with Outback Ballooning prior to making a booking. Each person is considered on an individual basis. The flight and carriage of any passenger will take place at the pilot's discretion. 


Cancellations must be received prior to 7 days before the flight. A 10% cancellation fee applies to all cancellations.