Dining
Quantum of the Seas-Dining
COMPLIMENTARY DINING OPTIONS, QUANTUM OF THE SEAS
Royal Caribbean offers a myriad of casual dining options and quick bites for meals on the run. 
Main Dining Rooms
 Exceptional multi course menus for breakfast, lunch and dinner served in four dining venues, Silk, Chic, The Grande and American Icon Grill. 
Windjammer Cafe
Enjoy an assortment of global cuisines and American favorites at this casual dining destination with spectacular views and a comfortable atmospherethat welcomes guests for breakfast, lunch, and dinner. 
Solarium Bistro - Breakfast and Lunch
A hearty but healthful lunch destination in Solarium with lighter options for breakfast and lunch. Try soups and stews, crepes, salad bars, fresh-cut fruits and more. 
Coastal Kitchen
Exclusively for suites guests and Pinnacle members, Coastal Kitchen serves up a fresh new fusion of California and Mediterranean-inspired cuisine. 
Café Two70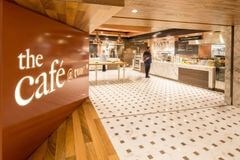 Fuel up with hot-pressed sandwiches, homemade soups, and customized salads for hearty, healthy meals in a gourmet marketplace setting. 
Cafe Promenade
Located in the multi-level Royal Promenade at the heart of our ships – and the best spot for people-watching – Café Promenade serves coffee, snacks, pastries, and sandwiches around the clock. Open 24 hours a day, it's perfect for satisfying your late-night cravings. 
Sorrentos
Savour an authentic New York-style pizzeria experience with traditional pizzas as well as rotating creations like Hawaiian and Pizza Florentine. 
Dog House
Take a seat at the counter and pile your favorite dog high with a variety of classic toppings. Choose from traditional hot dogs, brats, sausages, and more!
Room Service
Whether you're craving breakfast, lunch, dinner or an afternoon snack, get it delivered with Room Service, available 24/7.
*Delivery fee and gratuity charge applies for Room Service.
SPECIALTY RESTAURANTS
A Dining Experience to Suit Every Taste
From outstanding Italian cuisine at Jamie's Italian, to the classic pub fare of Michael's Genuine Pub, to an exclusive five-course meal at Chef's Table, unique dining experiences for every taste. 
Chefs Table
Capacity: 14
Join up to 14 guests at a private table for the ultimate intimate dining experience: a five-course wine pairing dinner hosted nightly by an Executive Chef and Sommelier.
Wonderland
Capacity: 62
In the mood for something different? Let Wonderland's chefs surprise you with their fantasy gourmet dishes and never-before-seen fare.
Jamie's Italian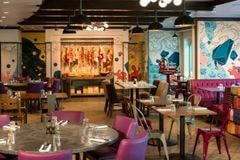 Capacity: 132
Chef Jamie Oliver prepares a menu of rustic Italian favourites, bursting with fresh, seasonal ingredients. 
Chops Grille
Capacity: 108
Enjoy juicy steaks, fresh seafood, hearty side dishes, and sumptuous desserts in the elegant, classic Chicago atmosphere of Royal Caribbean's popular signature steakhouse. 
Solarium Bistro
Capacity: 104
Experience Solarium Bistro's spa-style cuisine while gazing at panoramic views of the Solarium pools. Let the starlit ocean sky set the mood as you dine on inspired, sumptuous, and healthy dishes. 
Izumi
Capacity: 40
Traditional Asian cuisine is artfully prepared and presented at Izumi. You'll be wowed by the fresh ingredients, delicate flavours, and gorgeous plating of Izumi's sushi, sashimi, ishi-yaki plates, and more. 
Noodle Shop
Indulge in four-piece dim sum, noodle bowls, such as Taiwanese spicy beef noodles, and desserts including sesame balls and custard tart. 
Vintages
Capacity: 66
The perfect way to relax and unwind at the end of the day is with a glass of your favorite vino. Peruse the extensive wine list at Vintages, then pair your selection with a satisfying light snack for the ideal nightcap. 
La Patisserie
Fuel your morning at La Patisserie. This café-style eatery, exclusively available upon Quantum Class ships, serves up coffee and pastries and is ideal for an on-the-go breakfast.
< Back to holiday