Ireland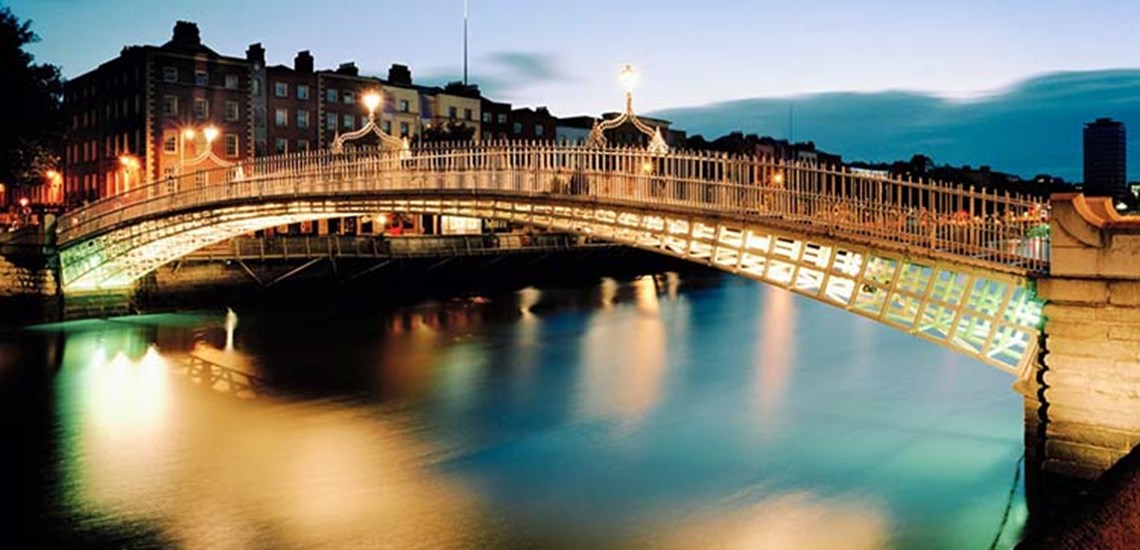 Ireland, the land of leprechauns, shamrocks, and St. Patrick where you can enjoy a flavour of Europe unique to this country and unavailable in more popular destinations like Paris and London.
Besides its unspoilt landscapes and its own brand of Celtic heritage, this nation boasts an overwhelmingly warm and welcoming people atypical of stereotypical Europeans. In fact, Lonely Planet brands Ireland among the world's friendliest countries.
The magical and poetic quality of the Irish landscape has indeed inspired many an artistic soul throughout the country's history. That's why we have the horn-filled ballads and the drinking songs of traditional Irish music, great thinkers like George Bernard Shaw and Oscar Wilde, Irish mythology and folklore, the highly respected work of James Joyce and William Butler Yeats, and, in more recent times, the music of Van Morrison, U2, and Damien Rice. For a richer taste of this class of poeticism and beauty, however, travellers may want to explore locations well beyond the country's capital, journeying out to areas like County Galway, County Wicklow, or County Tipperary.
Location: Ireland

, Europe
Size: 

70,273 km2
Capital: 

Dublin
Largest Cities: 

Dublin, Cork, Limerick, Galway, Waterford
Climate: 

For the most part, Ireland's climate is rainy and relatively temperate. January and February tend to be cold, although snow is scarce. On the other hand, July to August is when the summer heat peaks and when the sun shines for around 18 hours a day. Irish weather is characterized as unpredictable, and one can experience the four seasons in just one day.
Population: 

Over 4.5 million people



Language:

Irish, English



Religion: 

Roman Catholicism, Protestantism, no religious affiliation



Literacy Rate: 

99%



Government Type: 

Parliamentary constitutional republic



Head of State: 

President



Land Borders: 

United Kingdom (Northern Ireland) to the northeast
Currency: 

Euro
Natural Resources: 

Natural gas, peat, copper, lead, zinc, silver, barite, gypsum, limestone, dolomite
Main Agriculture: 

Barley, potatoes, wheat; beef, dairy products
Main Industry: 

Pharmaceuticals, chemicals, computer hardware and software, food products, beverages and brewing; medical devices
Electricity: 

230 V AC, 50 Hz
Time Zone:

GMT +00



Country Tel. Code: + 353 
Visa/Passport: 

Australian passport holders may enter the country without acquiring a visa. However, a visa may be required if one plans to stay for more than 90 days.
Airport: 

Dublin Airport (DUB) is the primary gateway to the country and is located 10 kilometres north of Dublin.
Departure Tax: 

Travelers do not need to pay any embarkation fee upon departure of the country.
Getting Around: 

The public transportation system in Ireland is not traveller-friendly, so visitors are advised to go with alternatives such as hiring a car, making arrangements with a taxi, or riding a bicycle. Train travel can be expensive and limiting, but the system is in the process of being updated.
Credit Cards: 

Credit cards are widely accepted in the country.
Drinking: 

The legal drinking age in Ireland is 18.
Shopping

:

Tax-free shopping is available to non-EU tourists, although there is no unified system with which travellers can claim their tax refund. Dublin is the shopping centre of the country, with its high street shops along Henry Street and colourful market at Moore Street. Popular souvenirs include Waterford crystals, woolen scarves, and Aran knitwear.
Tipping

:

If the bill does not already include a service charge, a 10 to 12% tip is customary.