South Africa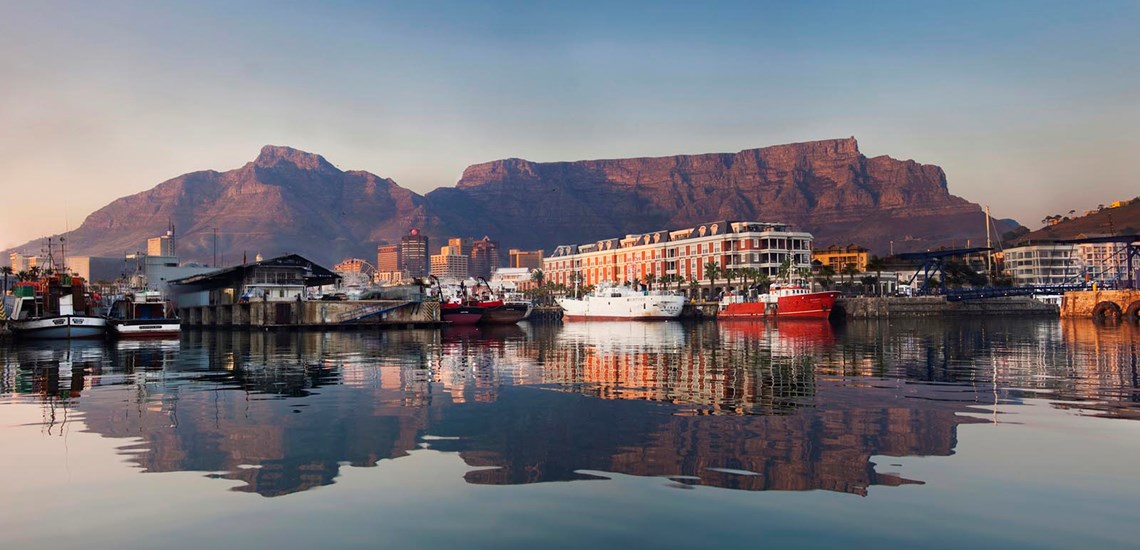 South Africa with its dramatic history and cultural diversity is an exciting adventure waiting to happen. Most people planning a holiday to the country will have a national park or two on their list of destinations. There's the world-renowned Kruger National Park, the world's oldest and largest national park. There are plenty of other opportunities to get as close to nature and wildlife as you can at other parks and nature reserves in South Africa including but not limited to Kgalagadi Transfrontier Park, Hluhluwe-Imfolozi Park, and Madikwe Game Reserve.
Of course, South Africa isn't just all about wildlife. Cape Town is a stunning world-class city where tourists can play soccer, kloof (that is, descend down a deep ravine), and swim with fishes. Those who prefer a more laid-back vacation can try the cable cars on Table Mountain, enjoy a drink in the Winelands, or go whale watching in Hermanus, an hour and a half away from the city.
Location: South Africa

, Africa
Size:

1,221,037 km2
Capital:

Pretoria (executive), Bloemfontein (judicial), Cape Town (legislative)
Largest Cities:

Cape Town, Durban, Johannesburg, Pretoria, Soweto
Climate:

South Africa's cool, dry winter is suitable for outdoor activities. Travellers visiting for these purposes, especially for wildlife watching, are advised to visit in the months of June to September. Summers are dry as well, but are hot and humid instead of cool and mild.
Population:

Over 48.8 million people



Language:

Afrikaans, English, and nine other official languages



Religion:

Christianity, no religious affiliation



Literacy Rate:

88%



Government Type:

Constitutional parliament republic



Head of State:

President



Land Borders:

To the north, Namibia, Botswana, and Zimbabwe; to the east, Mozambique and Swaziland; with Lesotho as an enclave
Currency:

South African Rand
Natural Resources:

Minerals (gold, chromium, antimony, and more), rare earth elements, uranium, gem diamonds, platinum, copper, vanadium, salt, natural gas
Main Agriculture:

Corn, wheat, sugarcane, fruits, vegetables; beef, poultry, mutton, wool, dairy products
Main Industry:

Mining, automobile assembly, metalworking, machinery, textiles, iron and steel, chemicals, fertilizer, foodstuffs, commercial ship repair
Electricity:

230 V AC, 50 Hz
Time Zone:

GMT+2



Country Tel. Code:

+ 27
Visa/Passport:

Australian passport holders visiting South Africa for 90 days or less need not acquire a visa if they are visiting for holiday or business purposes.
Airport:

OR Tambo International Airport (JNB, formerly known as Johannesburg International Airport) serves as the main gateway to and from Johannesburg for both domestic and international flights. The airport is 24 kilometres away from the city centre. Cape Town International Airport (CPT) serves Cape Town and is located 20 kilometres from its city centre.
Departure Tax:

A departure tax of R100,00 per ticket is charged for flights leaving South Africa except when the destination is Botswana, Lesotho, Namibia, or Swaziland, in which case the fee to be paid by the passenger is cut in half.
Getting Around:

Options include the bus system, domestic plane services, car travel, and even motor homes. When travelling to less explored areas, one may opt for off-road vehicles, which are usually available for rent. Hitchhiking is not generally recommended.
Credit Cards:

Credit cards are widely used in South Africa.
Drinking:

The minimum drinking age in South Africa is 18.
Shopping

:

Shopping for goods manufactured outside of South Africa, especially consumer goods, will most likely cost more than it would in other countries. Instead, look for traditional souvenirs such as Zulu beadwork, wire sculptures, and other local crafts. These can be found in plenty of locations, like Bruma Market in Johannesburg and Greenmarket Square in Cape Town.
Tipping

:

Tipping is expected. As a rule of thumb, leave an amount that is roughly 10% of your bill.