Lithuania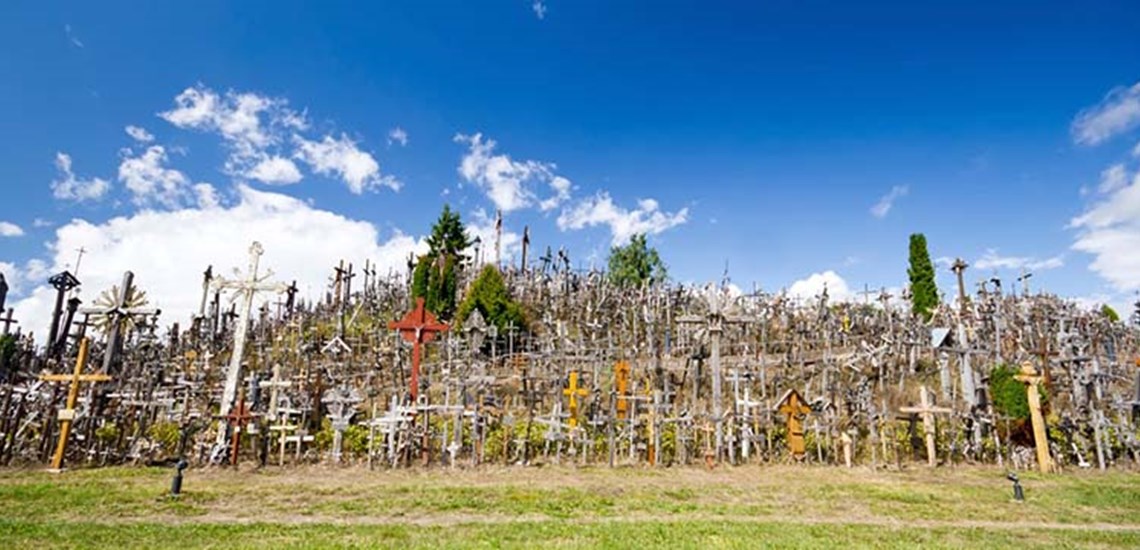 Though just having won its independence in the early '90s, the country of Lithuania didn't take much time to bounce back from a 51-year-long Russian occupation. This pint-sized European country betrays its size and exudes confidence, hope, and a vibrancy that speaks volumes about its rich culture and colourful history.  
At the heart of a holiday in Lithuania is Vilnius, the country's capital and also its cultural and financial centre. The city's Old Town is a UNESCO World Heritage Site, having been in constant development and evolution since the Middle Ages. Though some of the sights to see in this section of the city follow the pattern of tourist attractions elsewhere—cobblestone streets, a large Jesuit university, and a number of churches—what visitors definitely won't see anywhere other than Vilnius is the statue honouring Frank Zappa, which is perhaps testament to the city's eccentricity and soul. 
While there is enough to see within the confines of Vilnius, it is also worth venturing away from the capital. Klaipėda, the country's third largest city, hosts an annual sea festival and a biennial street theatre festival. Trakai, on the other hand, is famous for its castles, and Palanga for its beach resorts.
Location: Lithuania

, Europe
Size: 

65,300 km2
Capital: 

Vilnius
Largest Cities: 

Vilnius, Kaunas, Klaipėda, Šiauliai, Panevėžys
Climate: 

Depending on the location, winters can bring either snowfall or rain. Days are long and the weather is warm during summer. The best seasons to visit are spring and summer, though accommodations can be difficult to come by during the peak months of July and August.
Population: 

Around 3 million people



Language:

Lithuanian



Religion: 

Catholicism, Christianity



Literacy Rate: 

99.7%


 
Government Type: 

Parliamentary republic



Head of State: 

President



Land Borders: 

To the north, Latvia; to the east and south, Belarus; to the south, Poland; to the southwest, Russia (an exclave)
Currency: 

Lithuanian litas
Natural Resources: 

Peat, arable land, amber
Main Agriculture: 

Grain, potatoes, sugar beets, flax, vegetables
Main Industry: 

Machine tools, electric motors, television sets, refrigerators and freezers, petroleum refining
Electricity: 

230 V AC, 50 Hz
Time Zone:

GMT+2, GMT+3 (summer)



Country Tel. Code: + 370
Visa/Passport: 

The Schengen Zone's 90-day visa waiver program allows Australian passport holders to enter the country without a visa. This is under the condition that visitors will not stay within the entire Schengen Zone for more than 90 days over a six-month period. Otherwise, a visa must be obtained prior to departure from Australia. Within 48 hours of arrival, foreigners are required to register their place of residence.
Airport: 

The main gateway into Lithuania is Vilnius International Airport (VNO), which is located 5.9 kilometres south of the capital. Kaunas International Airport (KUN) in Karmėlava, Palanga International Airport (PLQ) in Palanga, and Šiauliai International Airport (SQQ) in Šiauliai also serve international flights.
Departure Tax: 

Passengers departing from Vilnius Airport will be levied an embarkation tax of LTL 60.
Getting Around: 

Visitors can rely on the train when travelling long distances. For shorter distances, one can choose from buses, taxis, and minibuses, all of which are reasonably priced.
Credit Cards: 

Credit cards are accepted mostly in larger establishments in big cities.
Drinking: 

The legal drinking age is 18.
Shopping

:

The capital, Vilnius, is home to plenty of shopping malls, as is Kaunas. Those who want to shop for more traditional wares, however, may want to visit an open-air market. Standard Lithuanian souvenirs include products made from amber, textiles like wool and linen, and traditional wood-carved boxes and utensils.
Tipping

:

A service charge will almost always be included in restaurant and hotel bills and taxi fares. When a tip is not included in the bill, the standard rate is 5% to 15%.