Slovenia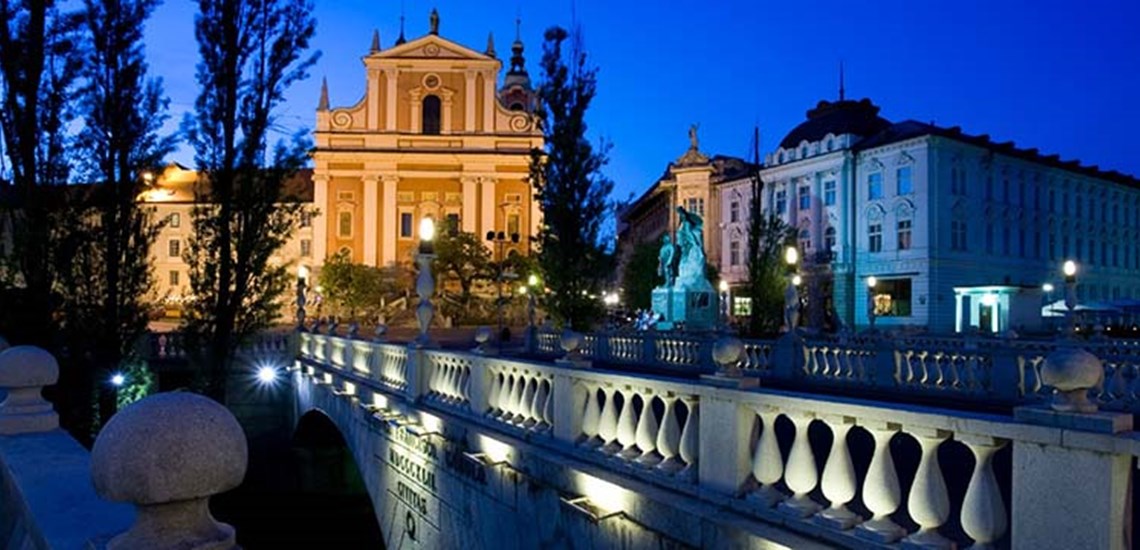 Following a ten-day war that gained the country its independence from Yugoslavia, Slovenia, although by no means as mainstream as France or as dominant as Germany, has proven to be a stable, peaceful country with a strong economy and an impressive spirit. Though, far from being the most popular tourist destination in the continent, those who have visited the country would characterise it as sophisticated and relaxing.
Often overlooked in favour of more popular European destinations like Italy and Austria, Slovenia's small size packs quite a punch in terms of sights to see and places to visit. The capital of Ljubljana is home to the Ljubljana Festival held every July to August. The city's baroque architecture marries well with the architectural design of Jože Plečnik, most prominently featured in the famous Triple Bridge, the National and University Library building, and Church of St. Michael in the Marshes. A little further away from the capital, some of the country's most popular sites are the Postojna Caves, Lake Bled, and the Škocjan Caves.
Location: Slovenia

, Europe
Size:

20,273 km2
Capital:

Ljubljana
Largest Cities:

Ljubljana, Maribor, Celje, Kranj
Climate:

Single travellers with a knack for hiking or camping will want to visit during the summer, which starts mid-June and ends with September. That said, this is the country's peak season, which means higher rates and harder-to-find accommodations. The shorter days in winter (December to March) might bring second thoughts to tourists planning to visit at this time but is never a deterrent for those who plan to go skiing.
Population: 

Around 2 million people



Language:

Slovene



Religion:

Catholicism, Islam, Atheism, no religious affiliation



Literacy Rate:

99.7%

 



Government Type:

Parliamentary republic



Head of State:

President



Land Borders:

To the west, Italy; to the north, Austria; to the South, Croatia; to the northeast, Hungary
Currency:

Euro
Natural Resources:

Coal, lead, zinc, building stone, and hydropower
Main Agriculture:

Potatoes, hops, wheat, sugar beets, corn
Main Industry:

Iron and aluminium products, electronics, trucks and automobiles, electric power equipment
Electricity:

230 V AC, 50 Hz
Time Zone:

GMT+1, GMT+2 (during summer)



Country Tel. Code:

+ 386
Visa/Passport:

Australian passport holders planning to visit for 90 days or less can enter the country without a visa.
Airport:

Ljubljana Jože Pučnik Airport (LJU), formerly known as Brnik Airport, is the country's major international gateway and is located 25 kilometres away from the capital. Two other international airports are located in the country, one in the east (Maribor Edvard Rusjan Airport) and one in the west (Portorož Airport).
Departure Tax:

No embarkation tax has to be paid when exiting the country.
Getting Around:

Perhaps the easiest way to get around Slovenia is by bus, including moving between cities. During busier times, however, travellers are recommended to book their seats ahead. Slovenian Railways also runs a fairly efficient system, though regularity of routes varies with different points of origin and destinations.
Credit Cards:

Though it is still best to carry cold cash, credit cards are commonly accepted in the country.
Drinking:

The minimum drinking age is 18, and the sale of alcohol between 9 PM and 7 AM is prohibited.
Shopping

:

Common keepsakes tourists buy in Slovenia include folk craft or handicrafts, specialty wines and schnapps, glass. Purchases unique to the country include fango cosmetics, which are made from mud from hot thermal springs, and Slovenian salt, which some Japanese sushi restaurants swear by.
Tipping

:

A 10 to 15 percent is customary.