Zimbabwe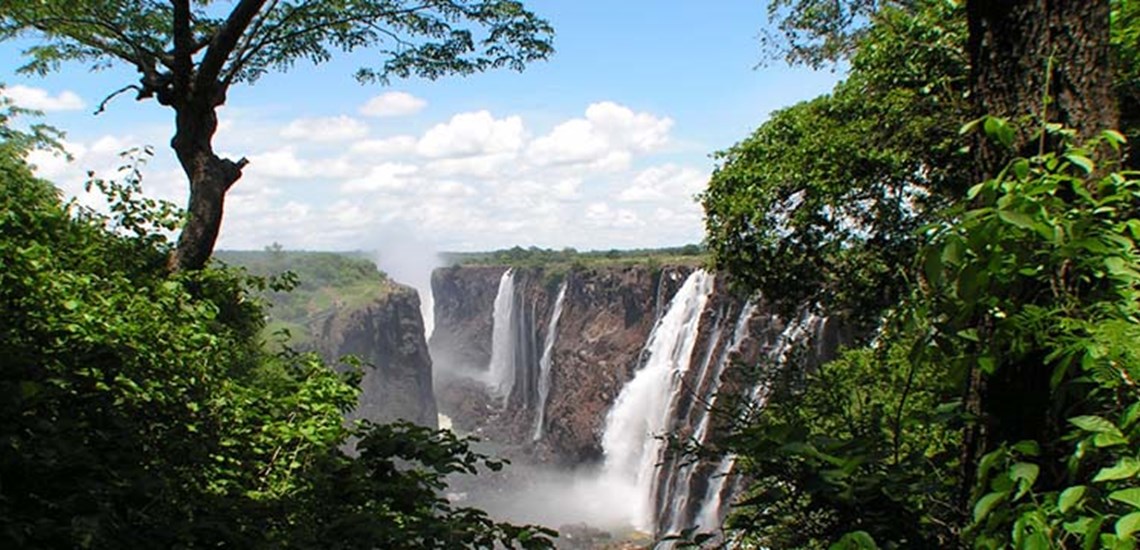 Travellers who are able to look past Zimbabwe's still recovering economic and political situation are in for a special treat. Though not the most often visited nation in Africa, the country boasts plenty of beautiful sights and experiences. Those who can bear less than pleasant transportation arrangements will surely be rewarded manifold—not just with the majesty of Victoria Falls but also with the historical significance of the ruined city of Great Zimbabwe and the overwhelming friendliness of the Zimbabweans.
If planning to visit the country, brace yourself for some outdoor activities; bungee jumping at Victoria Falls and game activities in various national parks, for example. For a more laid-back experience, Bulawayo, the second largest city in the country, has an interesting historical section, some good art shops, and curio shops worth combing through.
Location: Zimbabwe

, Africa
Size: 

390,757 km2
Capital:

Harare
Largest Cities:

Harare, Bulawayo, Chitungwiza, Mutare, Gweru
Climate:

Expect high temperatures in the morning and rainfall during the afternoon when visiting in the months of November to April, the country's summer months. May to October is wintertime and brings about a cool, dry season.
Population:

Roughly 12.5 million people



Language:

English, Shona, Sindebele



Religion:

Christianity, indigenous beliefs, Islam



Literacy Rate:

91.9%



Government Type:

Semi-presidential republic



Head of State:

President



Land Borders:

South Africa to the south, Botswana to the southwest, Zambia and Namibia to the northwest, and Mozambique to the east
Currency:

US dollar (also accepted are the South African Rand, Botswana Pula, British Pound, and Euro)
Natural Resources:

Coal, chromium ore, asbestos, gold, nickel, copper, iron ore, vanadium, lithium, tin, platinum group metals
Main Agriculture:

Corn, cotton, tobacco, wheat, coffee, sugarcane, peanuts; sheep, goats, pigs
Main Industry:

Mining, steel; wood products, cement, chemicals, fertilizer, clothing and footwear, foodstuffs, beverages
Electricity:

220 V AC, 50 Hz
Time Zone:

GMT+2



Country Tel. Code:

+ 263
Visa/Passport:

For a fee of 30 USD for single entry (45 USD for double entry), visas will be granted to Australian passport holders at the port of entry. The visa will be valid for 90 days.
Airport:

Harare International Airport (HRE) is the largest airport in the country and is located 17 kilometres from the city centre.
Departure Tax:

Travellers are required to pay a total of 50 USD for international flights and 15 USD for domestic flights.
Getting Around:

Travelling across the country can prove to be frustrating. Buses are available, though travelers should lower their standards. Minibus taxis and hitchhiking are also available though inadvisable options. Finally, car travel can pose uncertainties, as petrol shortages occur once in a while.
Credit Cards:

Credit card use is still very limited in the country, so travelers are advised to bring plenty of cash.
Drinking:

The legal drinking age in the country is 18.
Shopping

:

Souvenirs that tourists usually buy in Zimbabwe include stone carvings, leather products, and beadwork. As in most other African countries, non-local products tend to be expensive.
Tipping

:

Tipping is highly recommended, as most locals rely on tourists' generosity. That said, restaurants and hotels usually charge a 10% service fee on customers' bills.