Sri Lanka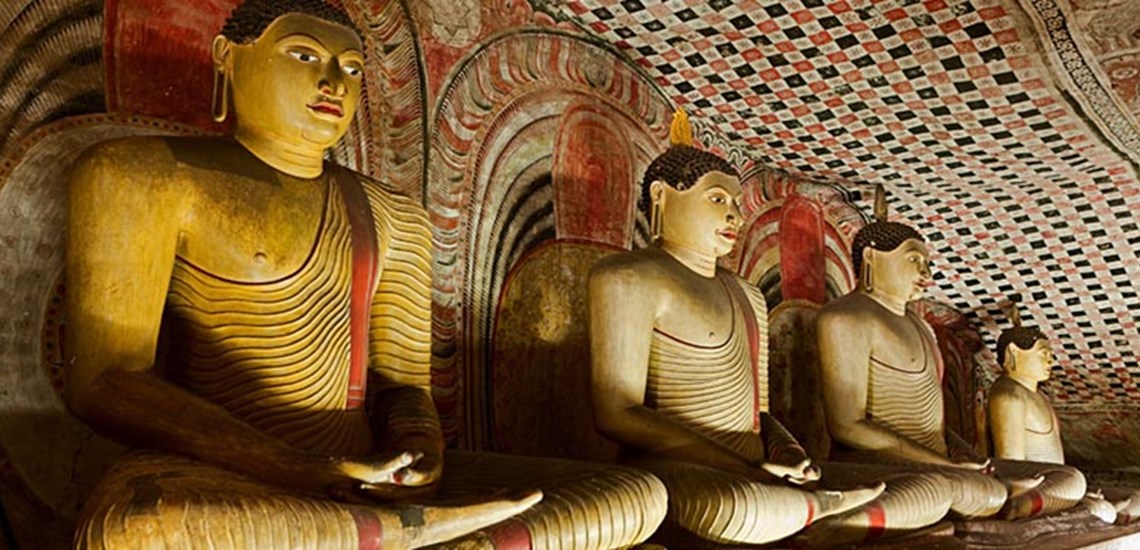 Sri Lanka, often overlooked and under-rated. Through civil wars and natural calamities, the country has remained a hidden gem, unassuming and silent, its sparkle only noticeable to those who bother to take a second look.
Why bother going to Sri Lanka when you can simply visit India or go island hopping in Southeast Asia? Precisely, because it is India and Southeast Asia combined, but as if on steroids. Due to its couple-thousand years worth of history, the country boasts a rich, diverse culture and a number of UNESCO World Heritage Sites. Because it is an island country, it also has beautiful beaches and resorts to rival those you would find in Southeast Asia. To cap it all off, if its wildlife and adventure you crave, you won't be left wanting. Elephants, anteaters, and water buffaloes lie in wait in the country's not one, not two, but 24 wildlife reserves. It's really a wonder why half the world hasn't flocked to this country yet, but perhaps those in the know would really rather it stay that way and keep this secret to themselves.
Location: Sri Lanka

, Asia
Size:

65,610 km2
Capital:

Colombo
Largest Cities:

Colombo, Dehiwala-Mount Lavinia, Moratuwa, Negombo, Trincomalee
Climate:

Sri Lanka's tropical climate is described by its two seasons: wet and dry. Though rain can be expected any time during the year, the country is wettest from October to January due to the northeast monsoon and from May to July because of the southwest monsoon. December to March are said to be the best months for a visit; this period marks the peak tourist season for the country. April and May are less busy but offer fairly good weather and more reasonable prices.
Population:

Around 20.3 million people



Language:

Sinhala, Tamil



Religion:

Buddhism, Hinduism, Islam, Christianity



Literacy Rate:

91.2%



Government Type:

Democratic Republic



Head of State:

President



Land Borders:

Bordered only by sea.
Currency:

Sri Lankan rupee
Natural Resources: 

Limestone, graphite, mineral sands, gems
Main Agriculture:

Rice, sugarcane, grains, pulses, oilseed, and spices
Main Industry:

Processing rubber, tea, coconuts, and tobacco; telecommunications; tourism
Electricity:

230 V AC, 50 Hz
Time Zone:

GMT+5:30



Country Tel. Code:

+ 94
Visa/Passport:

All foreign visitors are required to obtain an Electronic Travel Authority prior to entering the country. A visa may also be required in addition to the ETA depending on the traveller's purpose of visit.
Airport:

Bandaranaike International Airport (CMB) serves Colombo and is located 35 kilometres north of the capital. Mattala Rajapaksa International Airport (HRI), on the other hand, serves the southeastern city of Hambantota and is located 43 kilometres away from the city.
Departure Tax:

No airport tax is to be levied on travellers exiting from the country.
Getting Around:

For short distances, taking a three-wheeler (or tuk-tuk, as it is known locally) is a fairly convenient and inexpensive way of getting around while getting a flavour of the local culture. Take note, however, that three-wheel drivers have a tendency of overcharging foreigners, so you may want to negotiate the price. For longer distances, buses and trains are the two main options for tourists, as domestic flights are still fairly limited. Both buses and trains can get pretty crowded, however.
Credit Cards:

Credit cards are commonly accepted in the country.
Drinking: 

One has to be 21 to consume alcohol in Sri Lanka.
Shopping

:

Tea and gems are two of the most common items tourists take home from Sri Lanka. For a time, the country was a major exporter of tea, so one can be sure that theirs is of high quality. When shopping for gems, make sure that the merchant is reputable and trustworthy, as cases of fraud are not unheard of in the country.
Tipping

:

10% is a standard tip for service, especially when no service charge has been included,