Namibia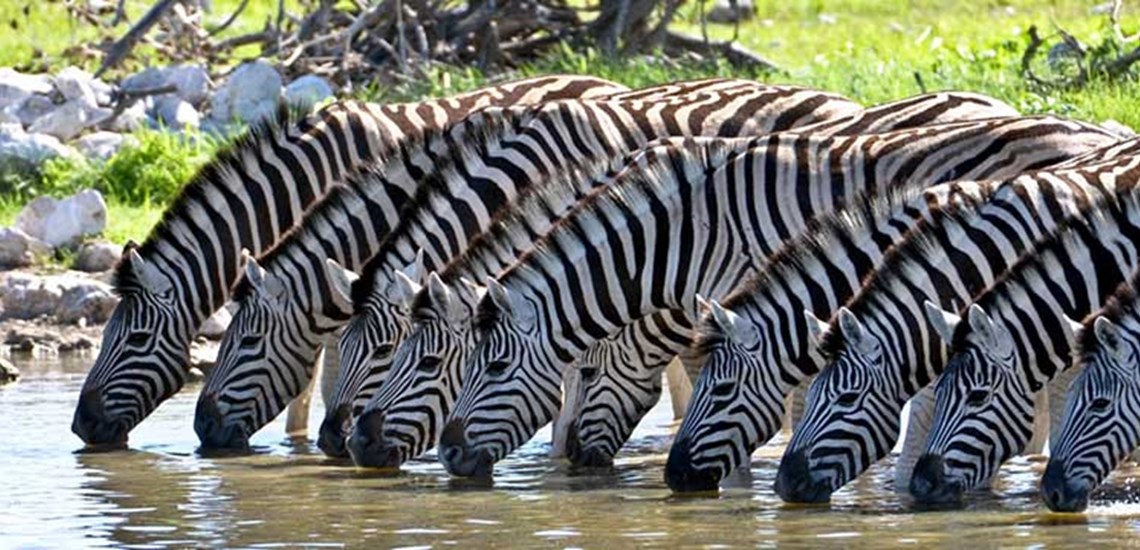 A former German colony, Namibia is one of the youngest nations in the African continent after having gained independence from South Africa in 1990. Similar to most other African nations, it boasts a diverse range of stunning landscapes that seem to have been lifted from many a photographer's dream. From colonial architecture to isolated deserts, breathtaking wildlife and impressive seascapes, there is plenty of eye candy in this country for individuals who adore nature.
Although Namibia offers plenty of sights similar to its neighbouring countries, it also presents some unique attractions that serve as a stark contrast to the typical safari landscape that tourists usually recall when thinking of Africa. Ai-Ais Hot Springs is a popular destination for those who wish to relax and recharge from their busy lives and trekking adventures. Meanwhile, Skeleton Coast offers a different kind of safari—the fly-in safari—where travel time is significantly reduced compared to the typical African safari.
Location: Namibia

, Africa
Size: 

825,418 km2
Capital: 

Windhoek
Largest Cities: 

Windhoek, Rundu, Walvis Bay, Oshakati, Swakopmund
Climate: 

Winter, which is from June to August, tends to be dry, whereas September through November and February through April are rainy seasons. Temperatures can vary greatly within the day in the Namib Desert, with excruciatingly hot mornings and freezing evenings.
Population: 

2.1 million people



Language:

English and other regional languages (Afrikaans, German, Oshivambo, Herero, Nama)



Religion: 

Christian, indigenous beliefs



Literacy Rate: 

88.5%



Government Type: 

Presidential republic



Head of State: 

President



Land Borders: 

To the north, Angola and Zambia; to the east, Botswana; to the south and east, South Africa
Currency: 

Namibian dollar
Natural Resources: 

Diamonds, copper, uranium, gold, silver, lead, tin, lithium, cadmium, tungsten, zinc, salt, hydropower, fish
Main Agriculture: 

Millet, sorghum, peanuts, grapes; livestock; fish
Main Industry: 

Meatpacking, fish processing, dairy products; mining
Electricity: 

220 V AC, 50 Hz
Time Zone:

GMT+1



Country Tel. Code:

+ 264
Visa/Passport: 

Australian passport holders may enter the country without acquiring a visa.
Airport: 

The main international airport in the country is Windhoek Hosea Kutako International Airport (WDH), located 45 kilometres from the capital. Eros Airport (ERS), also in the city of Windhoek, can be found 5 kilometres south of the city's central business district.
Departure Tax: 

Passengers need not pay an embarkation tax upon leaving the country.
Getting Around: 

The most recommended mode of transportation within the country is by car—travellers have plenty of rental companies from which to choose. Gravel roads aren't a huge problem when driving, as they are of good quality; but when travelling long distances, petrol stations can prove to be few and far between. Minibus taxis and buses are also viable options, whereas the train system might not be a great choice due to the slow speed of its trains.
Credit Cards: 

Credit cards are accepted in larger cities and may also be required when renting a car.
Drinking: 

The legal drinking age is 18.
Shopping

:

Namibian curios travellers usually go for include ostrich eggs, wooden airplanes, and other woodcarvings. Though Namibia is rich in natural minerals, visitors shouldn't expect a bargain on these prized items.
Tipping

:

A 10% service charge may be added onto your bill. If it was not, leave a tip equivalent to the amount anyway. Though not required, this is common practice in the country.