Thailand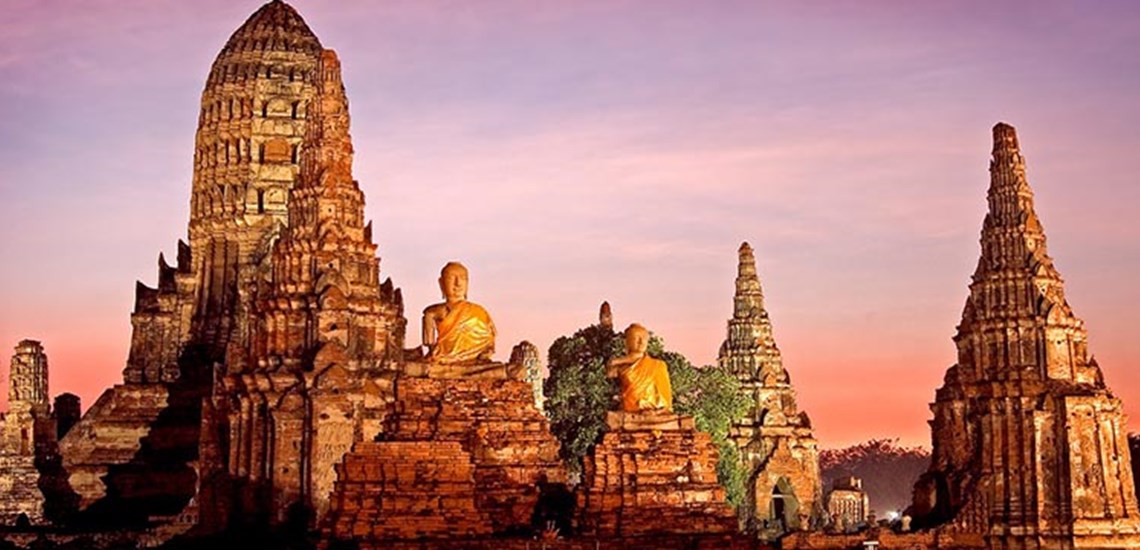 Much like its neighbours in the Southeast Asian region, the Kingdom of Thailand is a nation rich in history and culture. What sets this country apart is that Thai culture seems to have this magnetic appeal that draws travellers in and allures them to stay well after their visit should have ended. Maybe it's the electric smiles of the Thai people, or maybe it's their laid-back, fun-loving lifestyle. After all, Thailand is the most visited out of all the Southeast Asian countries.
Despite being a tourist-friendly country, however, Thailand retains its image as an exotic locale—perhaps partly due to the scams that run rampant in tourist destinations and to the red light districts in Bangkok, but also because of its towering temples, its pristine beaches, and its closeness to nature.
Even Thai food itself is intriguing, exciting, and exotic. With just basic ingredients like chicken, shrimp paste, and fish sauce; lime, chili, and garlic, the Thais conjure up the most flavourful dishes—tom yum, papaya salad, and curries that range from red to green on the rainbow spectrum.
Location: Thailand

, Asia
Size:

513,120 km2
Capital:

Bangkok
Largest Cities:

Bangkok, Samut Prakan, Nonthaburi, Udon Thani, Korat
Climate:

Thailand's tropical climate is witness to monsoons from May through September. The months of November to March tend to be cool and dry.
Population:

Around 66 million people



Language:

Thai



Religion:

Buddhism, Islam



Literacy Rate:

94.1%



Government Type:

Unitary parliamentary constitutional monarchy



Head of State:

Monarch



Land Borders:

To the north, Burma and Laos; to the east, Laos and Cambodia; to the south, Malaysia; to the west, Burma
Currency:

Baht
Natural Resources:

Tin, rubber, natural gas, tungsten, tantalum, timber, lead, fish, gypsum, lignite, fluorite, arable land
Main Agriculture:

Rice, cassava, rubber, corn, sugarcane, coconuts, soybeans
Main Industry:

Tourism, textiles and garments, agricultural processing, beverages, tobacco, cement, light manufacturing
Electricity:

220 V AC, 50 Hz
Time Zone:

GMT+7



Country Tel. Code:

+ 66
Visa/Passport:

Australian passport holders are exempt from visa requirements if visiting the country for 30 days or less when entering by air, or for 15 days or less when entering by land. Beyond the stated periods, a visa is necessary. 
Airport:

Twenty-five kilometres east of downtown Bangkok, Suvarnabhumi Airport (BKK) stands as the main gateway to the country's capital. Another airport can be found in Bangkok, the older Don Mueang International Airport (DMK), which now serves low-cost airlines. The third busiest airport in the country is Chiang Mai International Airport (CNX), a 10-minute drive from the city centre.
Departure Tax:

Passengers do not need to pay any departure tax upon leaving the country.
Getting Around:

Travellers pressed for time can take domestic flights to reach different parts of the country. Those who have the luxury of time, on the other hand, can take the train. Car and motorcycles are available for rent to travellers as well, although these options aren't advisable since driving habits in the country can be surprising to non-locals. A safer alternative would be the bus, particularly one run by BKS (also called the Transport Company). To add a bit of local flavour, tourists may also want to try the songthaew (a vehicle similar to a pick-up truck with two benches on either side at the back) or the tuk-tuk (three-wheeled lightweight motor vehicles) for shorter distances.
Credit Cards:

Credit cards are available primarily in businesses that are more established or that cater to travellers. Some establishments may add a surcharge to customers' bills, however, and fraud is unfortunately not uncommon.
Drinking:

The country observes the legal drinking age of 20.
Shopping

:

Avid shoppers are bound to have a blast in Thailand. Clothing comes cheap in the country, especially in Bangkok. Some of the popular shopping places in the capital city include the Chatuchak Weekend Market and Mahboonkrong Shopping Centre. Night markets and weekend markets are a big thing in the country as well, and haggling is the norm for such places. For souvenirs, Thai silk products and local handicrafts are good buys.
Tipping

:

Standard tipping guidelines apply. Leaving 10 to 15% of the bill as a tip is customary.